We can solve and prevent
contamination in food production factories
Physical contamination

-

human hair

-

broken machine pieces

-

equipment pieces

-

gravel from raw material

Chemical contamination

-

machine lubricants

-

pesticides

-

animal hormones

-

toxins

-

heavy metals

Biological contamination

-

bacteria

-

virus

-

parasite

-

fungus

-

pest

Allergen contamination

-

animal protein
(milk, fish, shellfish, eggs)

-

plant protein
(tree nuts, peanut, soy, wheat)

-

air pollen & dust

-

surface residue
ITO Thailand Hygiene Solutions
Clicking on each area to find products information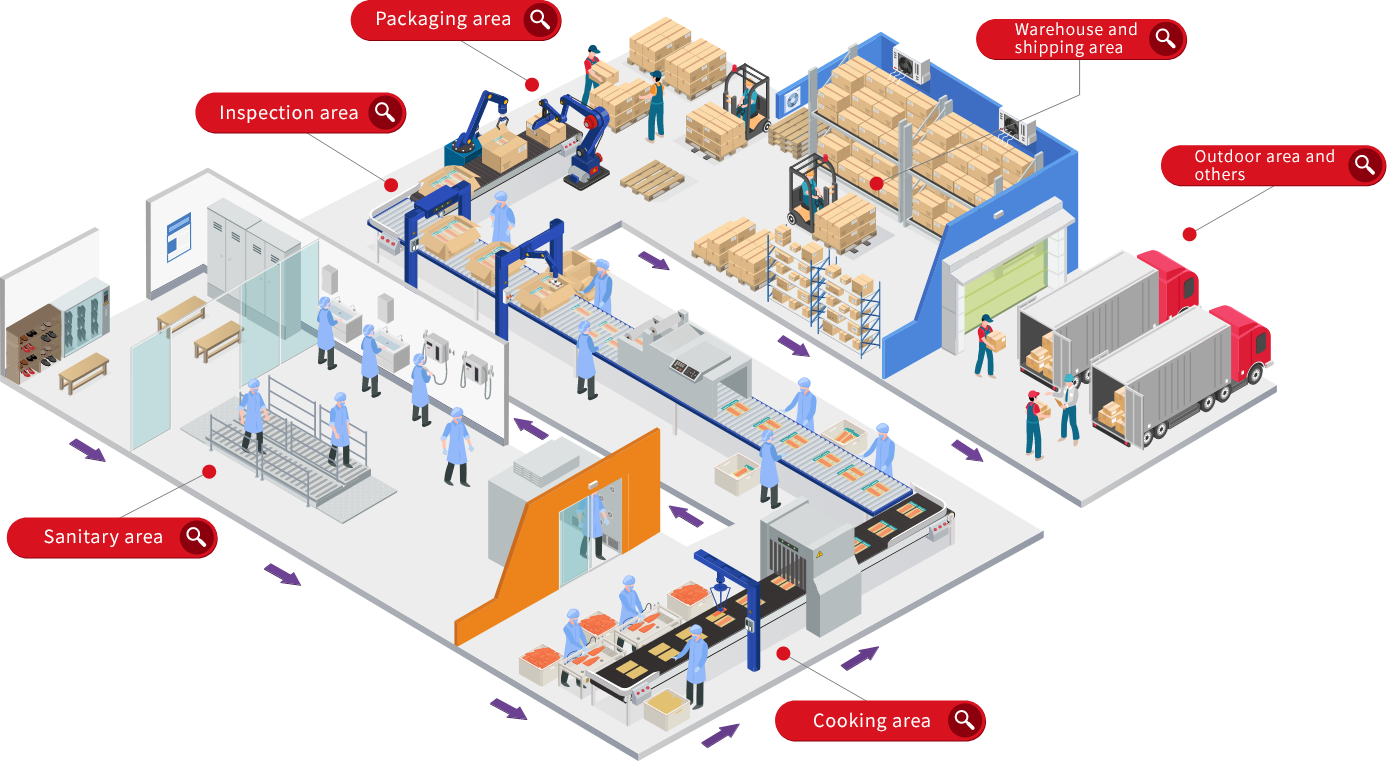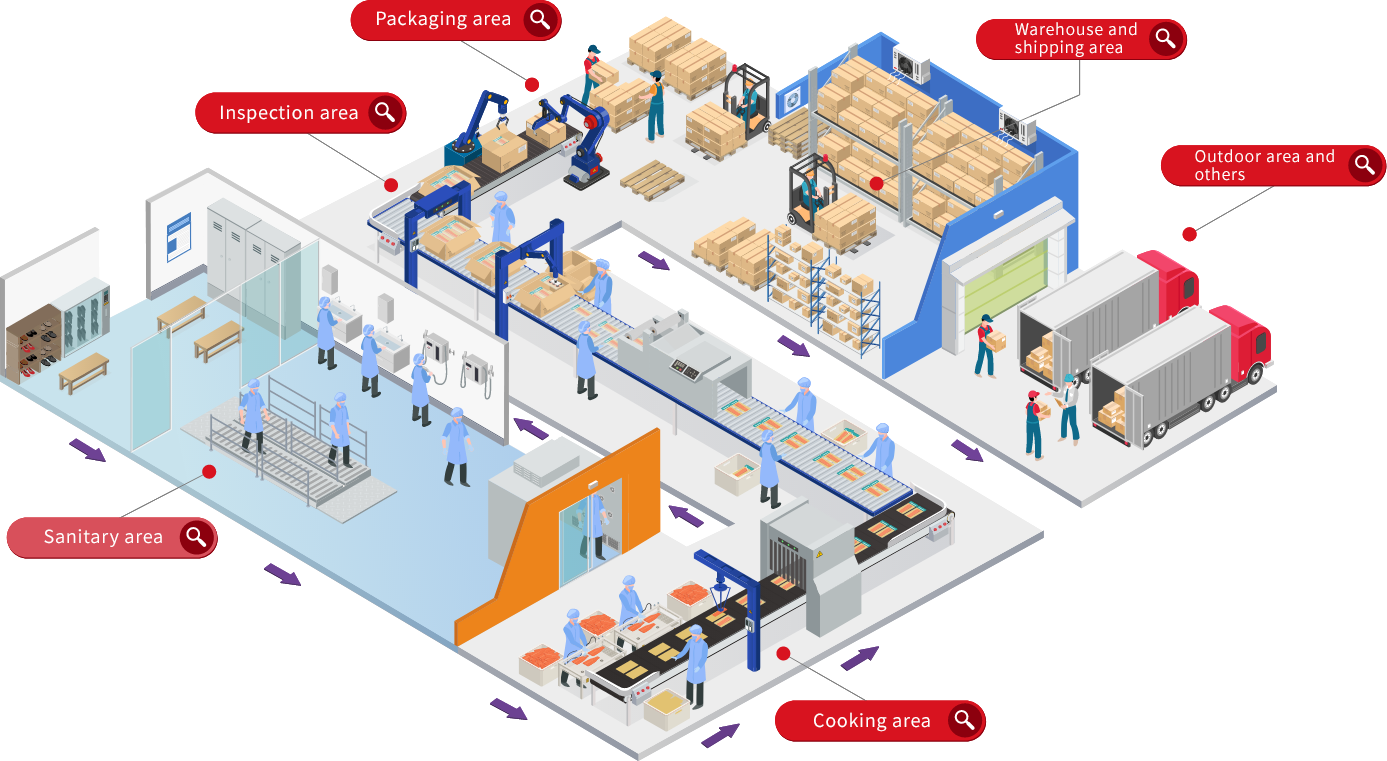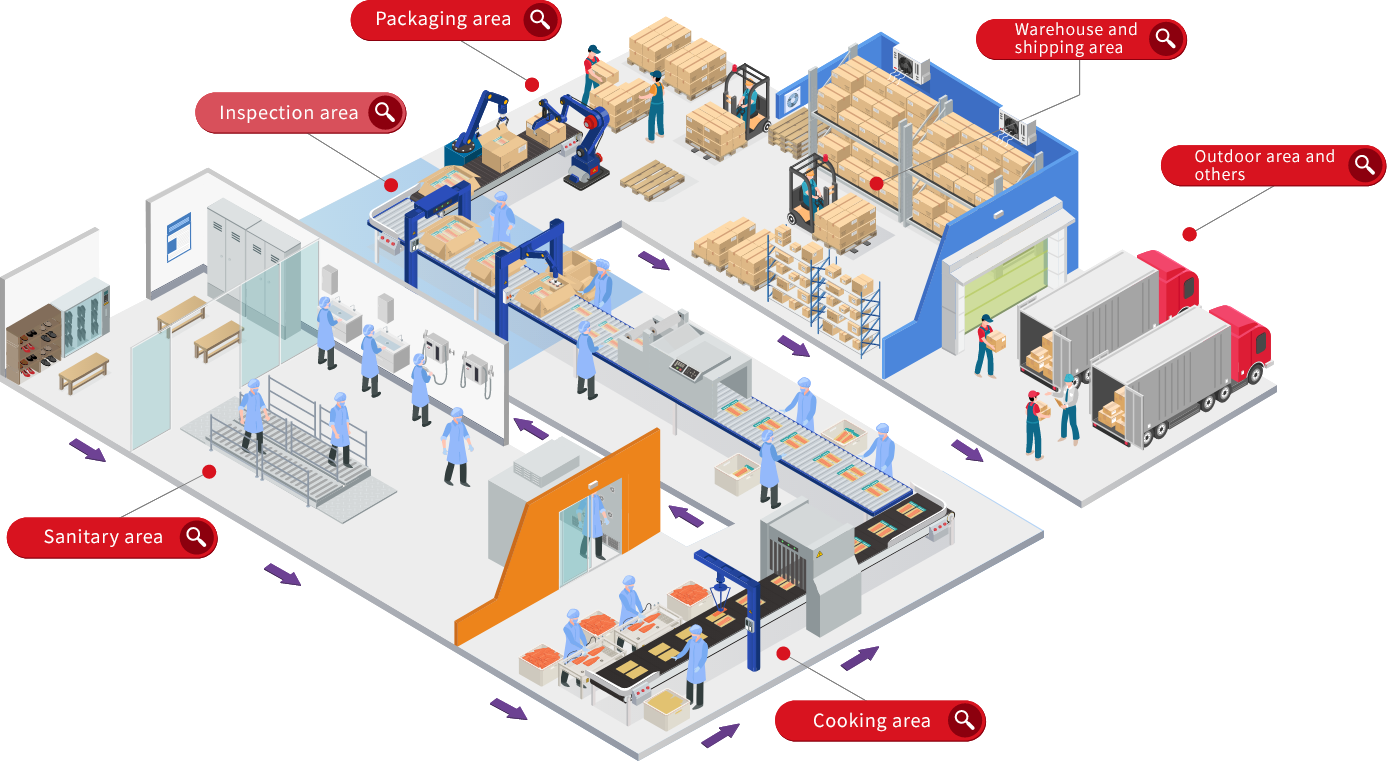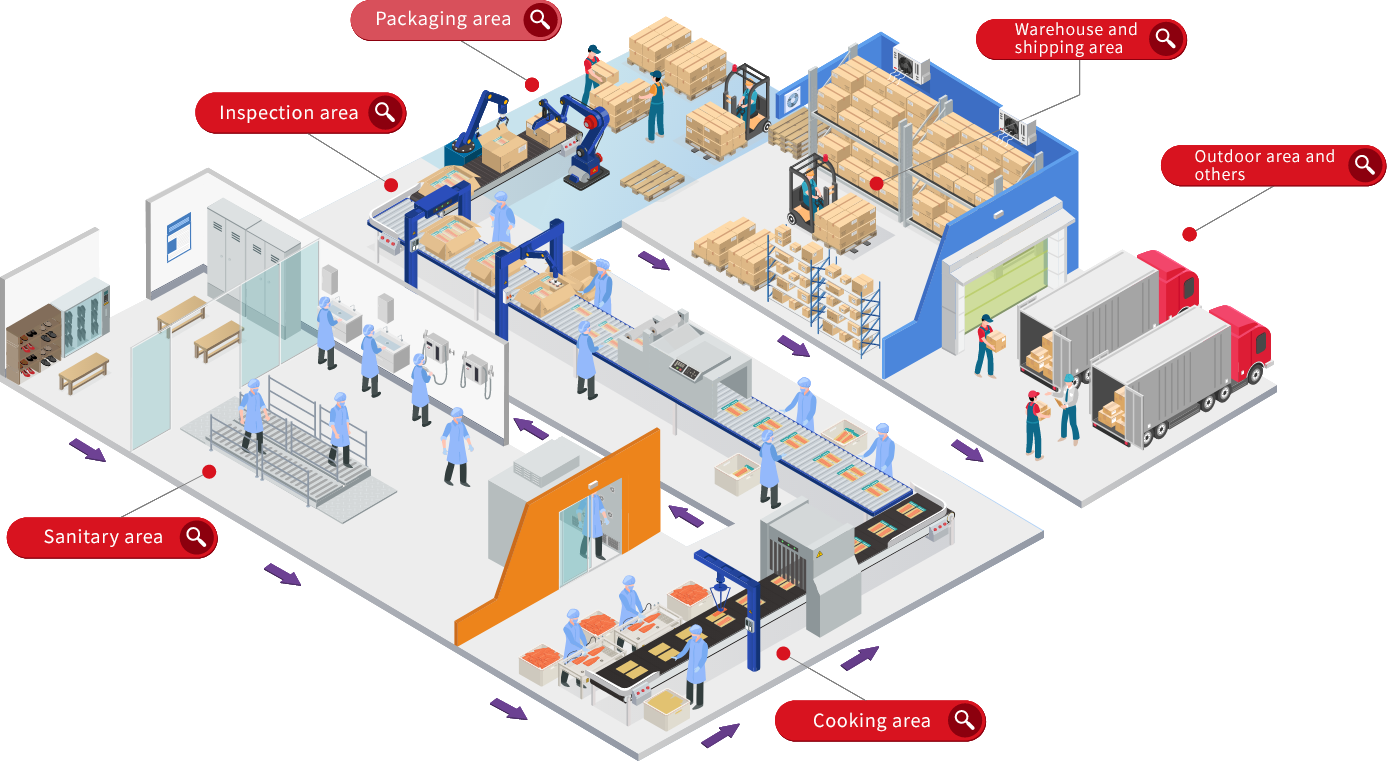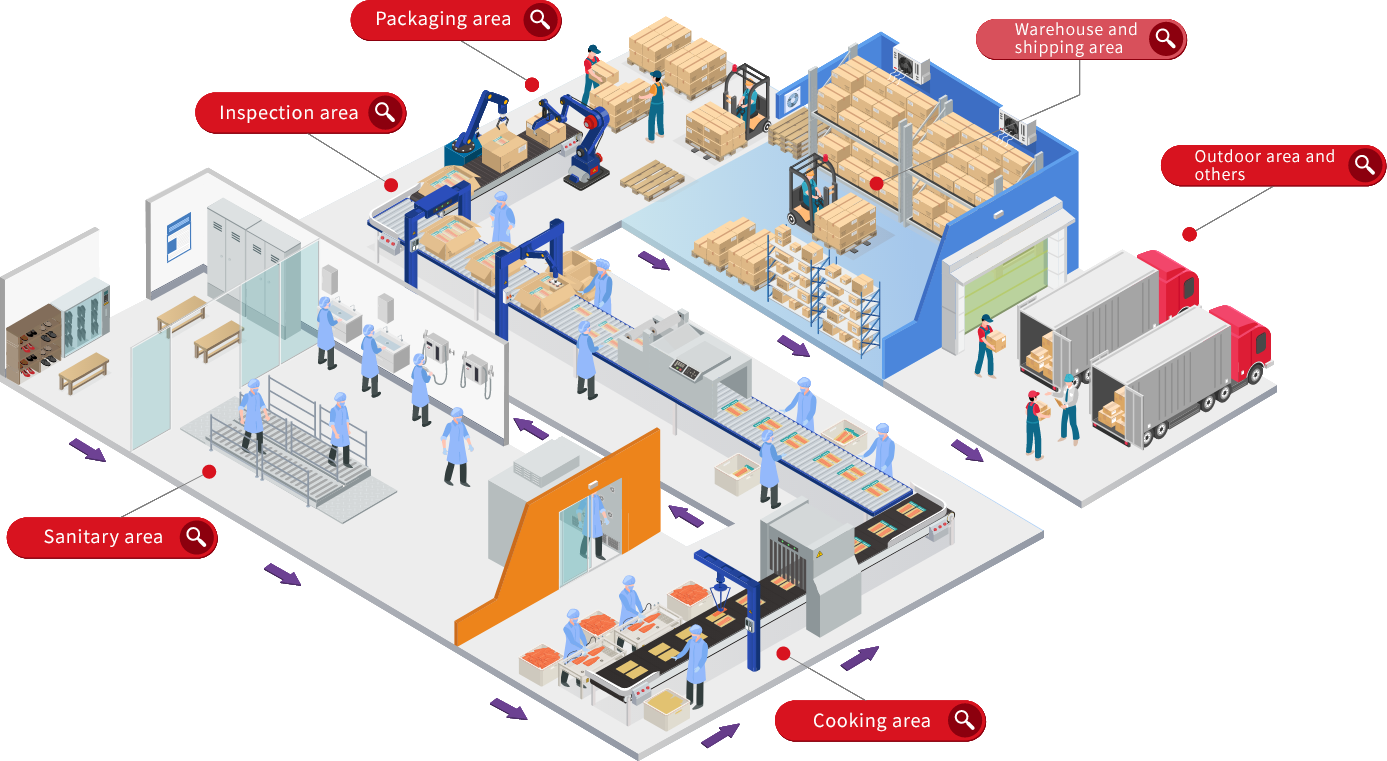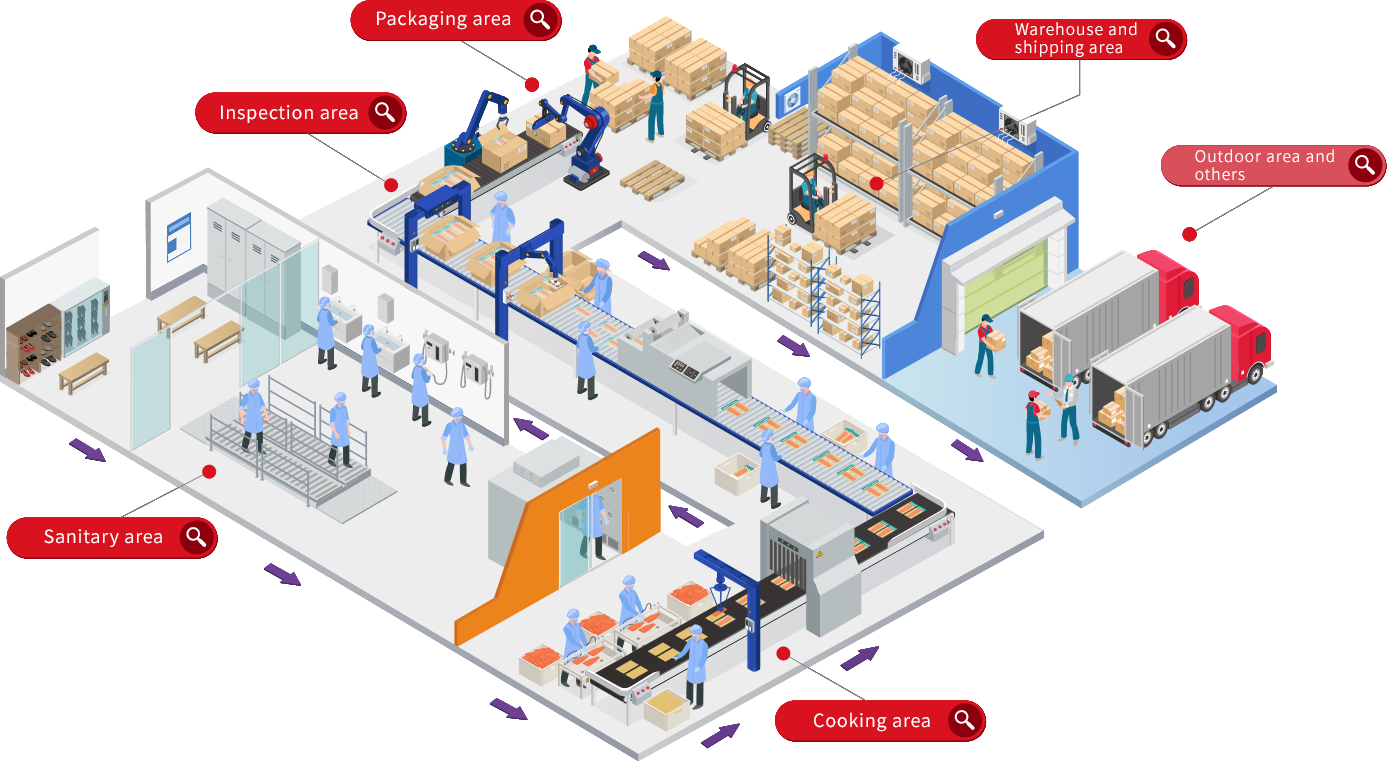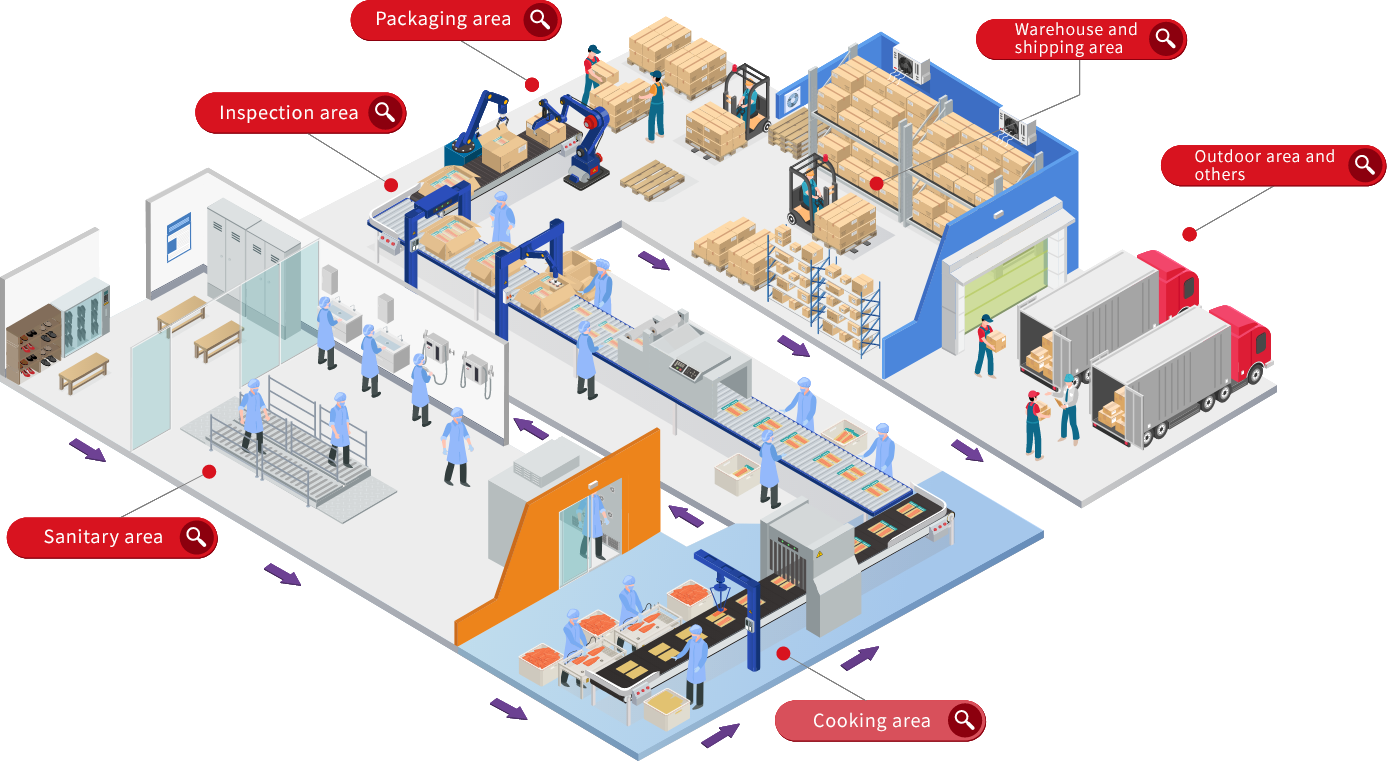 Sanitary area
Dust Cleaner

The Dust Cleaner is guaranteed to reduce contamination from hair and dust plus it will also reduce your electrical consumption.

Roller timer

Capable to track and monitor the usage of body roller via laptop or smartphone. Easily control the time and number of uses.

Body roller

Prevent cross-contamination from food containing allergens and others. Rollers are mixed with antibacterial agents. Easy to clean and no maintenance is needed.

Step mat

Remove dust, grime, contaminants from soles of shoes with 99.9% removal rate.

Solution maker

Environmentally friendly, effective, and affordable sterilizing agents for maximum hygiene. Suitable for every industry.
Inspection area
Metal detector

Prevent physical contamination of foreign metal objects with high inspection quality metal detector.
Packing area
Weight checker and system

Adjustable and customizable to customer's need Japanese standard with famous company reference. Prevent NG product by over or under weighing.

Packing robot

Reduce workload and increase production efficiency with automatic packing robot. Uniform and fast transport products from conveyor belts into carton boxes.

Palletizing/Depalletizing system/デパレタイザー

The use of Palletizing Robots in distribution or warehouse locations continues to grow and ITO Thailand can supply your business with the right model for your factory automation project.

Spider robot

The Motoman MPP 4-axis high-speed picking robot was developed for order picking, high-speed picking, and other handling applications. This model features a maximum payload of 3 kg.

Vision inspection system

Physical inspection system to maintain product qualities (ex. size, shape, color, uniformity, etc.) and misprinting of packaging. Allergen labelling inspection feature also available.

Barcode reader

ITO OCR Inspection System and Barcode Reader is quality inspection system to inspect character printing and Barcode, including reject system from automatic conveyor system.

Strapping machine

Strapping machine or a banding machine is capable of allotting, tightening, and fastening polypropylene straps around the packages, automatically. Its heater assists in applying pressure 12 on the strap and connects the ends with heat welds. Automatic strapping machine power switch have inbuilt sensors that makes the motor to switch off while not working and again restarts automatically with the insertion of strap.

Wrapping machine

This fully automatic wrapping machine wraps and cuts film. This stretches wrapping machine features a PLC and transducer control that can design the wrapping method and number of times it wraps. Its compact size ensures it fits into most 14 factory layouts. This feature full wrapping machine can use up to 67% less stretch wrap.
Warehouse and shipping area
Mobile rack

ITO Thailand supplies mobile racks that are designed for high-density space conservation. Conventional racking requires permanent aisles between racks, and this leads to insufficient storage capacity.

Cold room speed door

Saving energy of your cold storage and reduce temperature fluctuation. Suitable materials for -5 to -25 ℃. The model include heater and automatic ice shaking system.

Dock loading

"Dock Leveller" is designed to flexibly connect the platform and the truck, so the handling vehicles can smoothly pass in-out of the container to load and unload the cargo. It is necessary equipment for modern logistics warehouse and factory.
Outdoor area/others
Pest prevention net

Prevent your factory and warehouse from pests with insecticide net and high durability bird protection net.
Cooking area
High speed shutter door

A high-speed shutter door can greatly reduce air conditioning costs simply by reducing the time that space is open to the outside environment, with choices of pest prevention and microbial reduction systems.

Color & detectable cooking equipment

Elevate hygiene and reduce cross-contamination risk with colour-code cooking equipment with metal detector-compatible feature.

Color cleaning equipment

Cleaning brush are produced based on international standard with food grade materials with specific design suitable to use in food industry. Color code feature is applied to prevent cross-contamination.
ITO Thailand Hygiene Video
Company Profile
ITO Corporation's mission is to contribute
to our customers and to society via the values born
from new pairings and findings.
Corporate Philosophy
Create New Opportunities for Our Customers
An Organization Which Excites All
Improve the World via Moving Equipment
ITO(THAILAND)LTD.
CHARTERED SQUARE BLDG.
15F Unit 15-02C 152 North Sathorn Road,
Silom Bangrak, Bangkok, 10500